SijFa Cruises sails across rivers and canals throughout Europe all the way to the Black Sea. Discover Europe and experience the beautiful landscapes. Visit all the highlights of the European cities with maximum comfort and luxury on board. Experience the intimacy of being on the water. View here below in which regions we sail with our ships.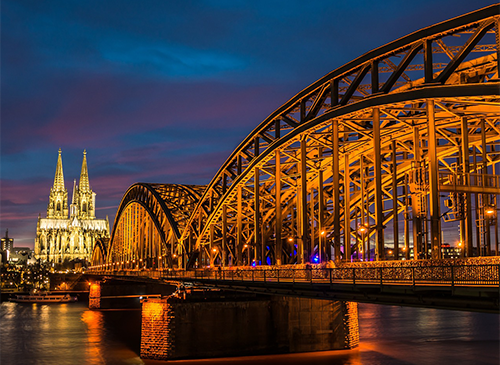 The Rhine continues to surprise you. During a river cruise on the Rhine you will be surprised by the magical landscape, interspersed with many castles, characterized by vineyards and many picturesque villages along the river. A cruise through the romantic Rhine Valley is ideal for exploring cities such as Rudesheim, Cologne, Koblenz and Mainz. Cities such as Vienna, Budapest, Trier but also Rotterdam offer beautiful art, culture and museums.
Via the tributaries of the Rhine you have the opportunity to discover cities and villages where history and everyday modernity meet. The picturesque Moselle, the beautiful Saar and the charming Main each have their own story. Cities such as Strasbourg, Saarbrücken, Frankfurt or Remich appeal to the imagination along these rivers.
After the Volga, the Danube is the second longest river in Europe. After 2829 km, the river flows into the border region of Romania and Ukraine, which ends up in the Black Sea via the Danube Delta. During a river cruise on the Danube you visit cities such as Vienna, Bratislava en Belgrado.
The Danube Delta is the best kept secret in Romania. On the way to the Black Sea you will be surprised by the impressive high rock walls of about 600 meters high! Because of the many water birds that nestle in the area, the crossing is a spectacle.
The channels of the Netherlands & Belgium
The Netherlands and its neighbor Belgium have a lot to offer. The various Dutch provinces are all treasures in terms of landscape and culture. Friesland and Zeeland are just a few of the highlights along the Dutch waterways. Belgium also offers diversity with cities such as Antwerp, medieval Bruges and the imperial city of Ghent.